The Crime Lady: A New Anthology, Awards, Bouchercon, and More
Dear TCL Readers:
If I thought life would slow down after moving — no, I didn't actually think that, because I knew it would not! But the last few weeks of events and travel were all worth it, even as I want nothing more than to cocoon myself in my apartment for the foreseeable future. More on where I've been and what I've done but first, some forthcoming project news, by way of the Publishers Marketplace announcement:
In fact, Unspeakable Acts has a July 28, 2020 publication date, as well as a cover!
I could not be more thrilled to edit this anthology, which reprints so many of my favorite features and essays from contributors including Michelle Dean, Pamela Colloff, Emma Copley Eisenberg, Sarah Marshall, Jason Fagone, Alex Mar, Karen K. Ho, Rachel Monroe, Alice Bolin, Elon Green, Melissa del Bosque, and Leora Smith. I've wanted a project like this to exist for years and my incredible publisher, Ecco, and editor, Zack Wagman, made it happen. Patrick Radden Keefe's introductory essay sets the tone so well and is one I am proud to publish. There'll be much more news as we get closer to next summer's publication date. And in the meantime, you can pre-order the anthology at your preferred retailer through this link.
**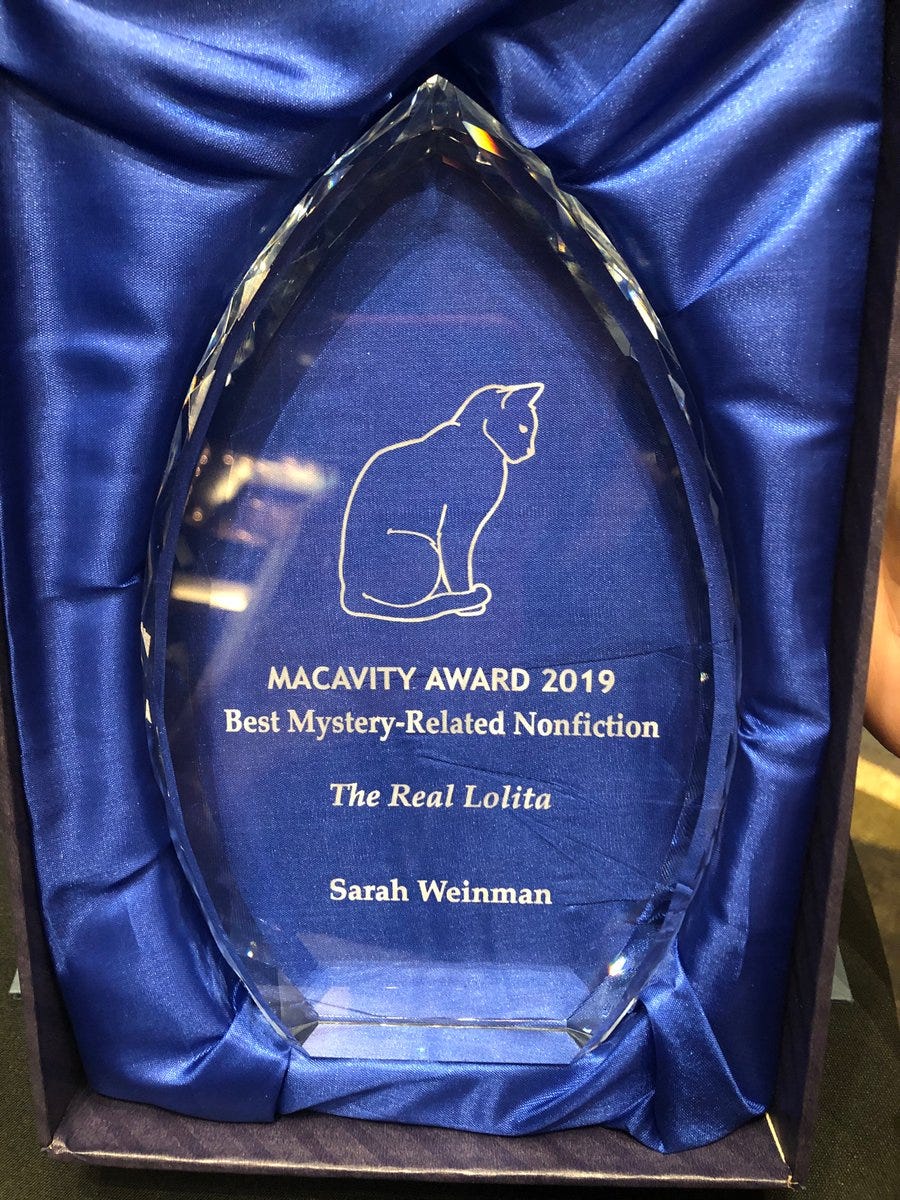 What a pretty award it is! I spent much of last week — with a brief pit stop in DC Monday night to moderate a kickass true crime panel with Carolyn Murnick & Maureen Callahan at the Union Market Politics & Prose — at Bouchercon in Dallas. While the 50th anniversary of the annual crime fiction convention did not lack in drama and in unfortunate incidents that will require deep reflection and action, it was also wonderful to see so many new and emerging writers who are well on the path to making the genre their own, in broader and more diverse ways.
I fared pretty well, too. Macavity Award winner & Anthony Award finalist (losing to Michelle McNamara's standout and posthumously published I'll Be Gone In The Dark is barely a loss at all.) Took part in a lively and entertaining panel on feminist mystery fiction with Steph Cha — with whom I am in conversation at Books Are Magic on Thursday, November 7, for her amazing new novel Your House Will Pay — Juliet Grames, Emily Giglierano, Lori Rader-Day, and Molly Odintz. Spent time with friends I hadn't seen in months or longer. Went out to a brilliant author dinner hosted by Ecco. Closed it out with drinks at the Adolphus Hotel with dear friends, trying not to gawk at the tuxedoed and gowned guests roaming nearby.
And yet. I left Bouchercon, which I've attended since 2001, in a state of flux that seems to mirror the state the conference is in. The center isn't holding. The status quo is crumbling. It has less to do with age or generations than in realizing that writing through chaos doesn't get you to order, likability is a concept that we don't have to entertain discussion about, a predominantly white male mode excludes far more than includes, and the convention doesn't know what to do with crime nonfiction writers. I'm optimistic we'll move to more positive territory, but not without public discomfort. I'm ready, are you?
**
READ/WATCH/LISTEN
A lot's happened here lately, so best to keep going on that front. The Real Lolita was also just nominated for a National Arts & Entertainment Journalism Award by the LA Press Club in the nonfiction book category, alongside untold illustrious journalists and authors around the country.

For Glamour, I profiled the great Susan Isaacs, looking at why her debut mystery Compromising Positions is a key 1970s crime novel and a formative one for me, why her newest book, It Takes One To Know One, is a lot of fun, and why meeting your heroes can get complicated.

I also wrote a brief piece for Intelligencer/NYMag on my extreme discomfort with celebrity pathologists like Michael Baden, because a lot of his history as an employed pathologist has been sanded over/forgotten/insert your choice of adjective.

Forthcoming books I can recommend without reservation: Take Me Apart by Sara Sligar (MCD/FSG, April), a terrific suspense novel about the intersection of art and power and archives and family; After The Last Border by Jessica Goudeau (Viking, April), a wholly necessary look at refugee resettlement policy through the lens of two women and their past and present struggles; Nine Perfect Murders by Peter Swanson (William Morrow, March), a meta-crime novel that is steeped with love of the genre; and Weather by Jenny Offill (Knopf, February), which exceeded the expectations set by Department of Speculation. A special additional shout-out to Erica Ruth Neubauer's Death At the Mena House (Kensington, April) a most delightful debut historical mystery with echoes of Elizabeth Peters' Amelia Peabody series.

You Must Remember This, the podcast about Hollywood's first century hosted by Karina Longworth, is back with a new season devoted to the 1946 Disney film Song of The South and I am learning so much already, just a few episodes in.

I think I have forgotten how to watch television and see movies. Maybe this isn't so terrible. Or maybe this means I'm tired.
In any case, it's good to be home, at least for a little while. Until next time, I remain,
The Crime Lady