Dear TCL Readers,
It has been a while! And much has transpired. Unspeakable Acts published to considerable critical acclaim (and healthy sales, too.) The virtual events all went well, and there is one more — a conversation with Jessica Garrison, author of The Devil's Harvest, hosted by Powell's on September 14, register here — to come. I'm also reporting out a story that's stretching my wings a little, but is still very much in keeping with the kind of crime stories I generally pursue. And there are more projects percolating, too.
This dispatch, though, is going to be more newsy. As I wrote earlier this year, Best American Mystery Stories, published annually by Houghton Mifflin Harcourt, will have a new editor — as well as an expanded title, Best American Mystery & Suspense Stories — as of 2021. That, new editor, as Publishers Weekly just reported, is Steph Cha, author of Your House Will Pay and the Juniper Song private detective novels, noir editor at the Los Angeles Review of Books, contributor to the Los Angeles Times, USA TODAY, Alta, and many other publications, and newly-minted winner of the California Book Award.
In other words, I could not think of a more perfect person to edit this annual anthology. When Steph — a longtime friend of TCL — told me the news, I had a few questions, which she graciously agreed to answer for newsletter readers.
**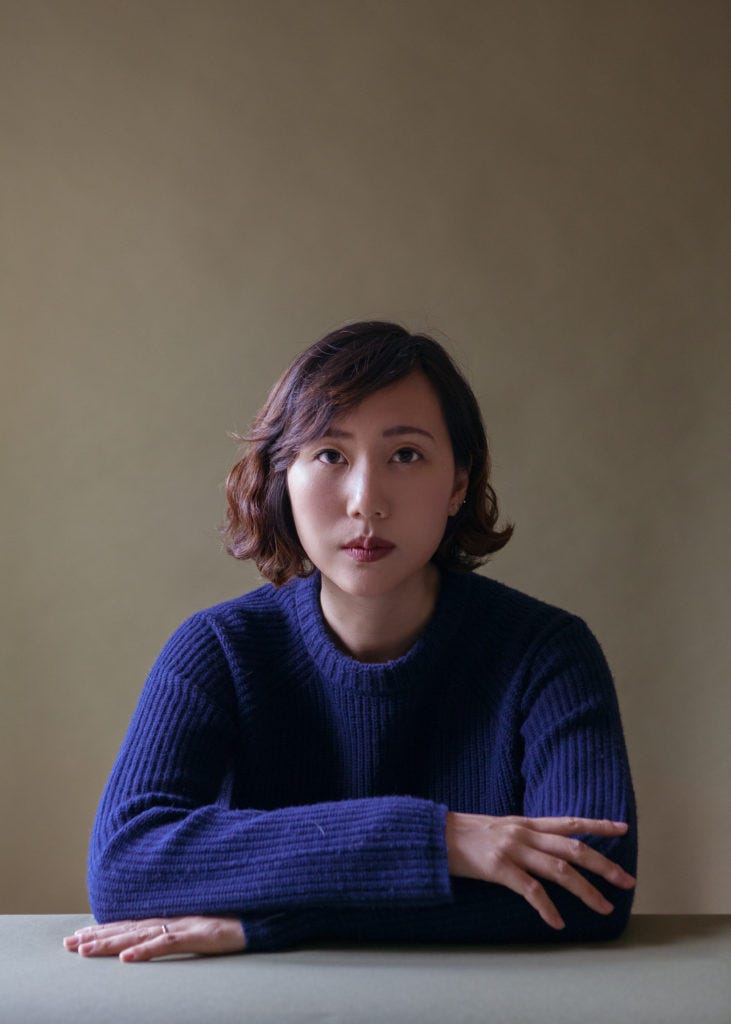 The Crime Lady: How did you end up with the Best American Mystery & Suspense Stories series editor gig?
Steph Cha: I got an email in March from Nicole Angeloro, an editor at HMH. The publisher had been considering taking the series in a new direction and they thought of me. When I was first approached, COVID was in the news, touching on our shores, not the thing defining our lives for the next year. I was also pregnant. Now that I'm still locked down for several months with a newborn….I think it's actually a good time to be reading short stories on my phone and in magazines! [Laughs]
We signed the contract in late July. If this goes well, I plan to be the series editor for a long time.
TCL: What did they mean by "a new direction"?
Cha: My first book came out in 2013, so I've been part of the crime fiction community for over seven years now. I've edited the noir section at LARB for over five years. In that short amount of time, there have been palpable changes within the industry — who I interact with online, whose books get in front of me. I see all that as a positive change. I used to show up at Bouchercon and be the youngest person in every room and one of the only nonwhite people and minority of women. Now I no longer feel like the young newbie. There's new blood coming which the genre desperately needed to grow and to sustain itself. So that's been really fun for me to see personally.
TCL: The editorial changeover (from Otto Penzler, who was the founding series editor) comes at a time of particular upheaval and change in America. I wondered how you are thinking about everything in relation to your vision for BAMS.
Cha: I've always thought that race should be a driving factor in American crime fiction. If you were paying attention to the news over the last several months, how could we not make that connection. The crime stories that we've been hearing about are the murder of George Floyd, the murder of Breonna Taylor, and now the murders in Kenosha. These are stories that reflect the larger social concerns of our country.
BAMS should reflect some of these recent changes and reckonings. That's not to say it has never been an inclusive series. I don't think that's true. It is a series that has been very male and pretty white-dominated, which reflected the genre as it was for a long time.
So much of being an editor is about personal taste, and the personal taste of who the gatekeepers happen to be. I feel like any anthology should be eclectic and reflect a lot of different viewpoints. Some of the social issues of the country, these make our way into the stories we tell and write. If I have a bias, it's toward these more social stories. But who knows what kind of submissions I'm going to get and the range I'll see. I'll bring my taste to the series and reflect the interests I have.
TCL: Are there any changes to how BAMS will solicit stories?
Cha: There will be open submissions to a Gmail address. I have a lot of friends in this world and in the literary world, (which includes people like you), I want it to be known so that people pass me some good shit!
I'll admit up front that I won't be able to read every crime & mystery short story published in 2020 in the way that [Penzler] said he did. I probably can't get through everything printed because there is still a lot. I'll look to traditional sources, of course, like Ellery Queen's Mystery Magazine and Alfred Hitchcock's Mystery Magazine, as those places are gold standards for crime short stories.
But I'll do plenty of digging on my own. Seeking out anthologies, like the ones that Akashic publishes every year. They solicit stories from particular authors, collections already curated, with a mind to getting eclectic collections that speak to particular themes. I assume that I will hear about all the anthologies, enough people are published in them that I won't miss whole books.
I'm more worried about missing potentially great crime stories because they are categorized as purely literary, in literary magazines. Those stories might take a little more searching out if the journal in question doesn't think of these stories as mystery and crime-related. I tend to define crime fiction pretty broadly. It's a genre and subject matter distinction. So that's a pretty wide umbrella. There are tons and tons of stories influenced by crime somewhere. I'm looking forward to finding them.
**
READ/WATCH/LISTEN
Already we're seeing true crime coverage change and deepen and get more interesting. In the last few weeks alone, we've had Unspeakable Acts contributor Elon Green investigate the pernicious whiteness of true crime (a story I was heavily invested in seeing into the world, I am happy to admit); Jason Cherkis reflecting upon his crime beat days, and the damage done, for CJR; Katie Way on the "friend of the cops" cards that let infractions (and more) slide; and Samantha Schuyler's must-read feature on the brief life and abrupt death of Toyin Salau. Melissa Jeltsen's HuffPost piece on a mother's disappearance also goes in unexpected, but darkly tragic, directions. And Mike Snyder's elegy for a lost friend decades earlier shows how Black lives truly, and always, matter.

I'm sorry to see the end of The Blotter Presents, a long-enjoyable podcast reviewing and analyzing contemporary (and not-so-contemporary) true crime entertainment. But the people behind the now-defunct podcast have a great newsletter, Best Evidence, that I look forward when it hits my inbox every day.

Speaking of podcasts, I hadn't planned on listening to Morally Indefensible, the companion podcast to the upcoming Errol Morris FX documentary A Wilderness of Error (building upon his book of the same name published a few years ago.) The Jeffrey MacDonald case has been well-covered. And then I heard Janet Malcolm's voice on tape interviewing both MacDonald and Joe McGinnis…and now I've listened to the first four episodes.

Books I have loved recently: The Stone Diaries by Carol Shields, which takes the cradle-to-grave biography and makes stunning, interpretive fiction that examines whose lives merit being transformed into stories; Must I Go by Yiyun Li, which does the same thing, in a markedly different structural manner; Saratoga Trunk by Edna Ferber, which I'm not totally sure holds up but she's still one of my favorite writers of the first half of the 20th Century (So Big is a masterpiece!); Jazz by Toni Morrison; Raven Leilani's Luster, the debut novel I won't stop thinking about; Alyssa Cole's daring and suspenseful When No One Is Watching; and Chelsea G. Summers' A Certain Hunger, which is easily the most distinctive and unforgettable crime novel of this year, a delicious soupcon of satire.

And I actually watched a television show! I know, weird, right. But I May Destroy You held my attention and rocked my world. Michaela Coel is great, but there are so many standout supporting acting performances in this show about trauma, aftermath, friendship, and living as a person in the world.
Fall is upon us soon. It's going to be our biggest test yet. I'm feeling ready, and I hope all of you feel similarly.
Until next time, I remain,
The Crime Lady