Dear TCL Readers,
Two weeks into 2019 and things are already weird and strange. I'm adjusting to full-time writer life, which, truth be told, isn't that much different than full-time freelancer life or book-leave life, but still feels psychologically distinct. I've jumped off a cliff, and even though I've let go of the metaphorical parachute to a safe landing, it's hardly guaranteed I'll end up where I think I will end up. Thank god for deadlines, of which I have plenty, for the new book, for longform projects, and other short pieces.
This week my immediate attention is on two events: first, at McNally Jackson on Wednesday, January 16, where I'll be in conversation with Amy Gentry about her standout sophomore suspense novel Last Woman Standing. (I reread it over the weekend and it was as audacious and humane and twist-laden as I remembered, and also, unfortunately, as timely as ever.) Then the following morning, on January 17, I'm giving a talk about The Real Lolita at the JCC Mid-Westchster in Scarsdale . (Details here.)
Book-related travel picks back up again in February, but as many of these events aren't ready to be announced yet, stay tuned in future dispatches.
**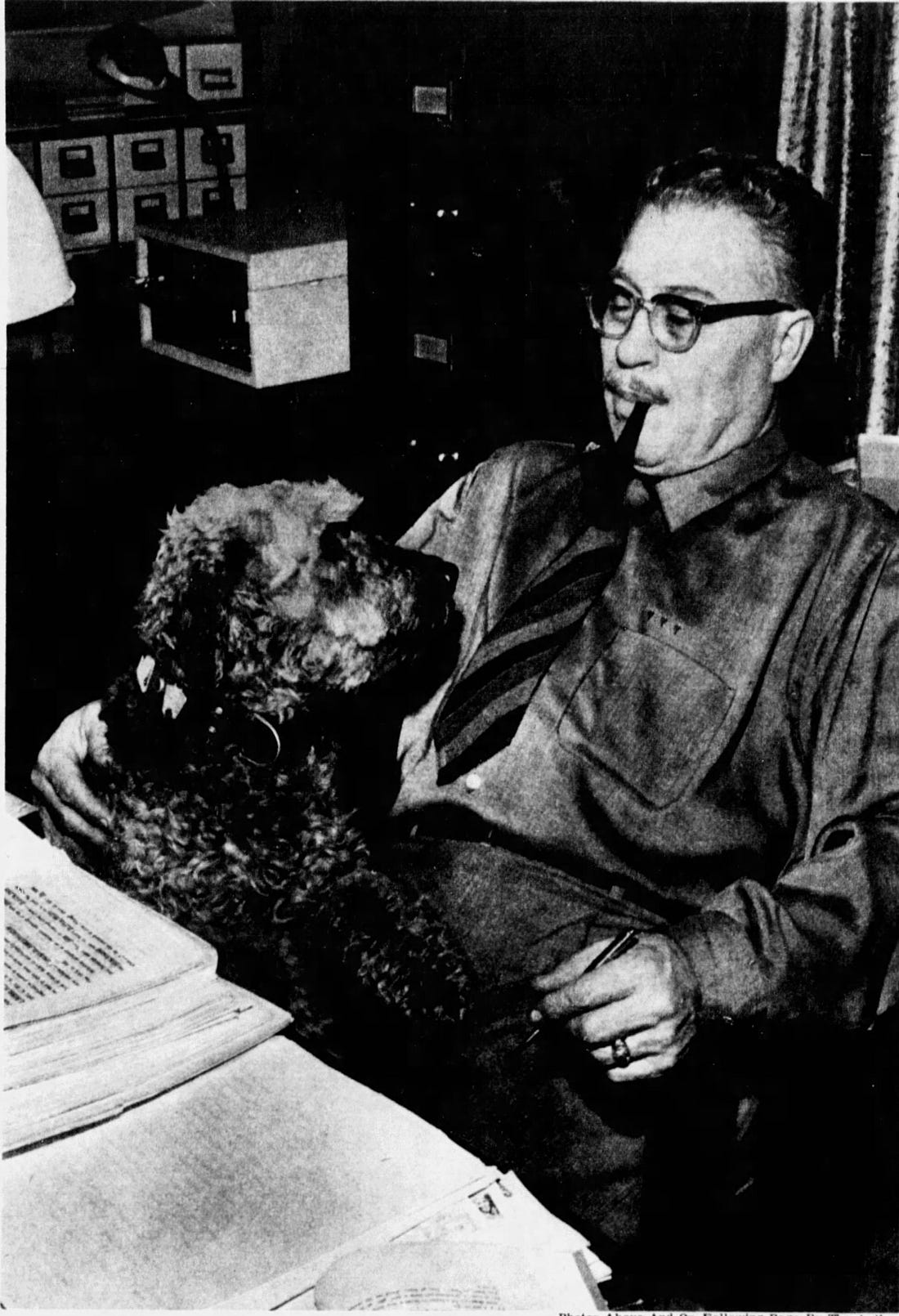 My latest CrimeReads column went up at the beginning of the month, and it's all about David Maurer, the University of Kentucky professor who made it his mission to chronicle the peculiar speech rhythms and argot of criminal subcultures. (That's him with one of his beloved pet Airedales from a 1960 Louisville Courier-Journal profile.) He's best known for The Big Con (1940), which when I read it last year seemed like a secret skeleton key not only to contemporary crime fiction, but American culture (specifically, the importance of the grift to the maintenance of American culture), but aside from Luc Sante's introduction to the 1999 reissue, there wasn't all that much about Maurer online — something that I knew, with judicious research, I could fix. My column is, I believe, the most comprehensive biographical sketch of Maurer available to the general public, and I'd love for there to be a full-scale biography of him someday.
**
Monday's print edition of the Washington Post includes a piece of mine that is most atypical for me: a negative review. I generally subscribe to the belief that with books, it is better to say nothing at all rather than say something not nice, unless there is some larger purpose behind the negativity. I also believe that if you must pan a book, you have to put yourself on the line as much, if not more, than the author did. Because, having reviewed books for more than a decade and a half, and also now the author of a book that garnered praise and pans, I know how subjective reviews are. You bring your own sensibility, your own biases, your own ground axes, mix everything, and season to taste. Your taste. No one else's.
But Leila Slimani's debut novel Adele — which preceded her international hit The Perfect Nanny, a novel I quite liked — was the exception to all my rules. I'd been asked to blurb it, and decided not to, and keep my mouth shut. Then the Post came calling, and just when I was about to decline I began to write my editor, Nora Krug, the following email: "It's funny, I was sent an ARC of that book for blurb purposes and I disliked it so much I decided not to say anything about it! So I think reviewing it might count as a conflict, but at the same time, it may be worth articulating why it doesn't work for the general public, so I shall leave it for you all to decide. Does that make sense?"
Krug not only did not think this was a conflict, but thought it would benefit readers to understand this bit of publishing inside-baseball, and then get into the gist of why the novel didn't work. I think I wrote the opening portion of the review within a half-hour of our email exchange, then put it away for a couple of weeks, before finishing the piece up in a similar inspired burst.
Now it's up for people to assess or ignore, criticize or praise as they see fit. I'm sure others will like Adele a lot more than I did, and that's fine — just as it's fine when people criticize books I love, as it helps me articulate all the better why I loved the book. (Case in point: Parul Sehgal's critical take on Kristen Roupenian's You Know You Want This, a collection I found uneven, but enjoyed.) But I think I'll steer clear from pans for a good long while.
**
The irony is that most of my reading in January has been related to the new project or books for possible blurbing, so I'm loath to discuss them now. But I did want to start 2019 off on a contemplative yet active note, and so I picked up Robin DiAngelo's White Fragility, which was one of the clearest-eyed, thoughtful books on how pervasive, and pernicious, white supremacy is in society, America in particular, and one I recommend so long as you're willing to go into it with an open mind and heart, and a willingness to see your own faults and do the work. Which, I grant, is difficult. Reading it made me very uncomfortable. But comfortable is how we got into so much trouble, and living within, and breaking through, the discomfort is how we may yet get out of trouble.
And so far, 2019 in crime is shaping up to be a very strong year. Some of my favorite reads to date, aside from Amy Gentry's Last Woman Standing, include:
Lyndsay Faye, The Paragon Hotel

Maureen Johnson, The Vanishing Stair (I did not know she would thank me in the acknowledgements of the book, nor that Johnson would shout out my book in a recent interview, by the way!)

Stephen Mack Jones, Lives Laid Away

Lauren Wilkinson, American Spy (February)

Patrick Radden Keefe, Say Nothing (February)

Kyle Swenson, Good Kids, Bad City (February)

William Boyle, A Friend Is A Gift You Give Yourself (March)

Anna Merlan, Republic of Lies (April) — yes, it's really about conspiracy theories, but that counts as criminal in far too many instances
My most-anticipated crime nonfiction books are Casey Cep's Furious Hours: Murder, Fraud, and the Last Trial of Harper Lee (May), Josh Levin's The Queen: The Forgotten Life Behind an American Myth (May) and Rachel Monroe's Savage Appetites: Four True Stories of Women, Crime and Obsession (August). As for fiction, I will be most curious to read Denise Mina's Conviction (June) and Alison Gaylin's Never Look Back (July) in tandem to get at the true crime podcast element in both; Kate Atkinson's bringing back Jackson Brodie in Big Sky; Laura Lippman and Alafair Burke are automatic buys; and Angie Kim's Miracle Creek (April) is the debut I most have my eye on.
Here's to a healthy and productive January, and I'll be back next month. This newsletter is free, but the next will go out to paid subscribers only, so if you're inclined to kick in a few bucks a month or pay an annual fee for exclusive TCL content, please do switch over your subscriptions.
Until then, I remain,
The Crime Lady